About Fraze & Company, CPAs
For accounting and tax strategies designed around your business, turn to Fraze & Company, CPAs. We understand that your small business has unique goals and challenges so we don't suggest cookie-cutter accounting solutions. When we become your CPA firm, you'll get a true partner who takes the time to learn about your business, assess your needs, and develop a personalized package of accounting services and tax planning techniques.
Fraze & Company, CPAs is a valuable asset to small business owners because we possess the capabilities and professionalism of a large CPA firm combined with the responsiveness of a smaller firm. We always offer dependable financial advice and are committed to providing the best customer experience for every client.
Call our Illinois CPA firm now at Fraze & Company, CPAs to learn more or request your free consultation through our website.
---
Veteran-Owned Small Business
Fraze & Company, CPAs is a Service-Disabled Veteran-Owned Small Business (SDVOSB) and Larry Fraze is a certified member of the Vets First Verification Program. This special designation provides firms owned by disabled Veterans the opportunity to compete for VA set asides.
---
Meet Larry Fraze, CPA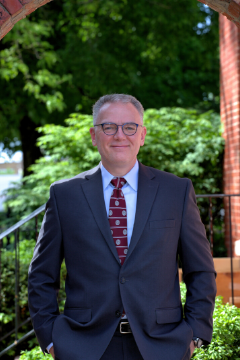 Larry Fraze is a second-generation Certified Public Accountant, a Marine Corps veteran, and a lawyer. After 23 years of public and private practice, he opened his own firm, Fraze & Company, CPAs.
Larry served in Desert Storm and then attended Miller School of Business at Ball State University, a nationally ranked top-ten program. Having earned his CPA license in 2000, he worked in public accounting until transitioning to private practice. Larry graduated from Concord Law School of Purdue University Global in 2012. After graduation, he chose to continue as a CPA but his legal training proved to be invaluable. Throughout his career, Larry has represented clients in over 20 mergers and acquisitions by conducting pre-acquisition due diligence and acquisition negotiations.
Larry has been a chairperson and board member for non-profit agencies and government commissions. He and his wife, Marvina, have five children and are passionate about providing opportunities for inclusion for the vulnerable and disabled.
---